Program
Podium discussion
Heidi Schelhowe, HU Berlin, Instititut für Informatik: Technologie und Geschlechterverhältnis
Evelyn Teutsch, Leipzig: MOOs - virtuelle Welten jenseits von männlich und weiblich
<www.hgb-leipzig.de/foogue/> Sabeth Buchmann + Katja Diefenbach, Berlin: zur cyber- feministischen Theorie (D. Haraway, S. Plant)
Cornelia Sollfrank, Hamburg: Die Wahrheit über Cyberfeminismus
<www.obn.org>
Diana McCarty, Budapest/ Berlin: A net of her own: 100 ways to increase female networks on the net
<www.thing.at/face/>
Moderation
Ellen Nonnenmacher und Vali Djordjevic, mikro e.V. Berlin
Video
Claudia Reinhardt: "Bonny and Clyde"; "Hellrazor"
Christine Kriegerowski: "How to frost a cake"; "Where ist Christie Turlington?"; "How to ???? a supermarket- chicken".
Visuals
Claudia Reinhardt: Fotos
Audio
DJ T-ina
RealVideo
Modem

mikro.lounge #5: geschlecht.im.netz (gender on the net)
<www.mikro-berlin.org/Events/19980701E.html>

WMF, Johannisstr. 20, Berlin-Mitte
Wednesday, 1 July 1998, 20 Uhr

deutsch

At the beginning of the age of cyberspace in the early 90s, the discourse concerning changes and reconfigurations of the individual under the conditions of virtual existence dominated the discussion. Particularly in the US, a few theorists held the view that the physical body would lose its meaning on the Net. Cyberspace presented a stage for the individual freed from the bounds of gender, race and class, a space for the fully developed conditions in which the individual could realize him/herself. This would finally mean the end of discrimination and disadvantages for women and ethnic minorities especially. This view stands and falls, however, on the premise that the configurations of the body in real space would dissipate in cyberspace or on the Internet. We wanted to take a closer look at this idea with regard to the situation of women on the Internet: What is the actual situation for women in various areas of the Net, what happens there and what strategies for change are currently being experimented with? An arc stretching from technical developments to feminist theory to concrete projects emerged.

Heidi Schelhowe, an information theorist at Humboldt University,

reported on the situation in her field. Although most computer work stations are occupied by women, the number of female computer scientists and programmers has fallen since the early 80s. Women use computers but don't have a say over the way they work. In our culture, technology is still a male domain. This development can and should be reversed by means of education and social restructuring since access to positions which deemed socially positive, and technology is certainly one of them, is also access to more power.
In text-based virtual spaces, such as MOOs and MUDs, there are at times hundreds of players who meet to experience adventures, solve puzzles, and last but not least, to communicate with each other. In the process, each registered user creates a virtual personality which may have something or not much at all to do with his or her everyday personality. There are dozens of genders and the description of one's appearance is limited only by one's imagination. Evelyn Teutsch, a student at the Academy for Graphic and Book Art in Leipzig, has created such a MOO and has also been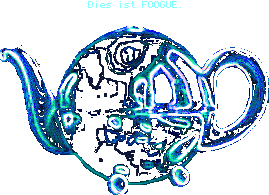 investigating how gender in a supposedly genderless space actually works. The question as to which gender anyone claims in "real life" plays a considerable role in the MOO. Out of -- well-founded -- fear of harassment, women usually take on neutral or male genders in MOOs; the female characters are usually men who hope to attract more attention. In the process, the reversal of gender stereotypes rarely occurs. On the contrary -- the women, as played by men, exaggerate characteristics classified as female by society. So a careful observation of social interaction in MOOs and MUDs leads in no way to the conclusion that gender has been overcome in virtual space or that a release from the norms of the real world occurs, but rather, that these are bound in the same way to society and its structure as they are throughout the rest of our lives.
In the past few years, a few of the new feminist theorists have achieved notoriety in the mainstream as well in that they not only criticize the current technological development but also investigate its as a liberating element. The most notable names here are Donna Haraway and Sadie Plant. Katja Diefenbach and Sabeth Buchmann have cast a critical eye on two texts by the two authors. They see in both theories a dangerous technological determinism at work potentially supportive of the neoliberal tendencies in the current work environment leading to the self-exploitation and domestication of, above all, women. Sadie Plant's remarks in particular at times take on anti-female attributes from male literature and present them uncritically as positive ones.
Plant perceives herself as a cyberfeminist. But the term is also used by an entirely different group of women who take a playful and ironic approach to theoretical concepts. Cornelia Sollfrank,

a Hamburg artist and member of the cyberfeminist group "Old Boys Network", sees cyberfeminism as a strategy with which to try out new political forms of action that cross the boundaries

into artistic practice. In the process, Cyberfeminism rejects any definition because the individual is emphasized by the actionist element: "Cyberfeminism is what I develop myself," as Sollfrank says.
Our last guest for the evening was Diana McCarty who launched the FACES mailing list with Kathy Rae Huffman, FACES is a mailing list for women that allows other women who work in new media to come into contact with each other, to get to know each other. Experience had shown that even on the Net, where everyone is supposed to have equal access, the voices of women were heard more rarely and less clearly. The list is a success in that it is a cooperative effort among women who never would have come across each other in any other way, and that effort has led to new projects.
[V.D./E.N.]