Program
DJs
trax tv (Ulrich Gutmair / Martin Conrads)
Tilman Baumgärtel - digital dub
Natascha Sadr Haghighian - Taschenmusik
Manuela Krause - new electronica
as well as surprise eggs

*NEW* for all friends of electronic music who also enjoy listening to the radio and live near Berlin Mitte - the unbeliev- able has come true: since February 1, 1999 ---> TWENFM from 6 pm to 2 am on 95.1 MHZ.
For everyone else, Giovanni Telegra- fista sings on the occasion of the end of telegraphy this year: RIS.

mikro.lounge #12: "one year of mikro"
the birthday party
Wednesday, 3 March 1999, 20:00 Uhr
WMF, Johannisstr. 19, Berlin-Mitte

deutsch

To celebrate mikro's birthday, mikro offers itself and you a content-free party. 100% Socializing! 100% Sound!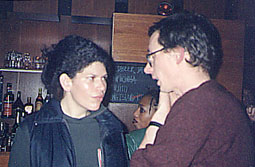 Diana McCarty, Andreas Broeckmann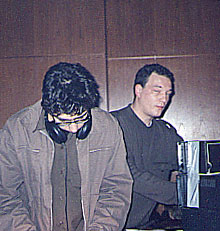 Ellen Nonnenmacher Martin Conrads, Tilman Baumgärtel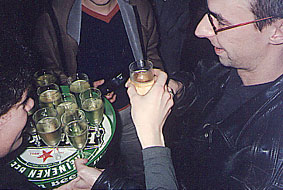 Volker Grassmuck